The Pronk Pops Show Podcasts
 Story 2: McCain Calls Trump Supporters Crazies — Trump Calls McCain A War Hero Four Times, Loser and Dummy — Accurate Statements All — Videos
Actual Voice of General Patton starting at 1:15 vs. Hollywood
CRAZY – PATSY CLINE – HQ Stereo
Donald Trump on Fox & Friends Defends His Sentator McCain Not A Hero Comments
Donald Trump: McCain's a War Hero Because He Was Captured, 'I Like People That Weren't'
Todd Starnes McCain started all of this mess
McCain: 'Term Of Endearment' To Call Trump Supporters 'Crazies'
Trump: John McCain Is A Dummy & Rick Perry Needs IQ Test
Did John McCain Lie About His P.O.W Record?
McCain POW Cellmate Speaks Out on McCain's Heroism
Former POW says McCain is "not cut out to be President"
John McCain Losing His Cool
Mean spirited McCain is known for throwing temper tantrums, flying off the handle, blowing his top,seething with anger, accusing others of lying, and of mistreating POW/MIA family members. So how will he treat U.S.? POW/MIA families report…You decide
John Mccain Exposed By Vietnam Vets And POWs
Fact Check: The Washington Post on Donald Trump and John McCain
By SHARYL ATTKISSON
Donald Trump appears to have gotten under the skin of not only Democrats, but also fellow Republicans and the news media. Has that subjected Trump, a Republican presidential candidate, to unfair and/or inaccurate reporting?
An article in the Washington Post today is headlined, "Trump slams McCain for being 'captured' in Vietnam."
The article's lead sentence states, "Republican presidential candidate Donald Trump slammed Sen. John McCain (R-Ariz.), a decorated Vietnam War veteran, on Saturday by saying McCain was not a war hero because he was captured by the North Vietnamese [emphasis added]."
Is this report accurate?
In fact, Trump's actual quote is the opposite of what is presented in the Post's first sentence.
Discussion
1. The Post did not provide context at the outset disclosing that McCain and Trump have been feuding, with McCain characterizing some Trump supporters as "crazies" and Trump stating that McCain graduated last in his class in Annapolis. The charged rhetoric continued at the conservative Family Leadership Summit in Ames, Iowa this weekend.
2. When a panelist characterized McCain as a "war hero," the Post is accurate in reporting that Trump initially said McCain is "not a war hero." But then, Trump immediately modified his statement saying– four times– that McCain is a war hero:
"He is a war hero."
"He's a war hero because he was captured."
"He's a war hero, because he was captured."
"I believe, perhaps, he's a war hero. But right now, he's said some very bad things about a lot of people."
3. Did Trump say McCain is not a war hero because he was captured? No, not in the exchanges represented in the Post.
4. Is the Post's characterization an accident? It would appear not, because it is repeated in the Post's caption of the video clip, which also states: "Republican presidential candidate Donald Trump said Sen. John McCain (R-Ariz.), a decorated Vietnam war veteran, was not a war hero because he was captured by the North Vietnamese [emphasis added]."
Further, in the Post's second sentence, Trump is quoted as stating of McCain, "He's not a war hero…He's a war hero because he was captured," but the article selectively left out the phrase Trump had uttered in between: "He is a war hero."
Conclusion
Trump actually said the opposite of what the Post lead sentence and video caption claim. The Post might have been able to get away stating that Trump "implied" McCain was not a war hero because McCain was captured, but even that would have been a subjective interpretation since Trump had actually stated the opposite.
It's true that Trump stated one time that McCain is not a war hero. But Trump stated four times that McCain is a war hero–and that was not accurately characterized in the article.
For interpreting and characterizing Trump's true quote in a way that is at best questionable, and for selectively using some quotes and leaving others out, the Post receives Two Little Devils. (Ratings scale at end of article.)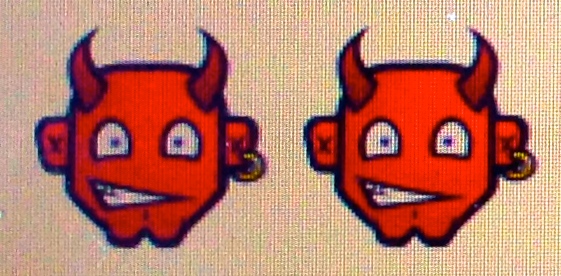 Obviously, all are free to draw conclusions about any candidate or politician. But the news media has a responsibility to do its best to report accurately and fairly–even when reporters find a candidate and/or his positions to be personally distasteful.
Trump: I don't need to be lectured
McCain has abandoned our veterans. I will fight for them.
John McCain has called his own constituents who want a secure border "crazies."  No one in the news media or the establishment, including the Republican National Committee, criticized the senator for those comments.
Now, as respected reporter Sharyl Attkisson has proved point by point, the news media are also distorting my words. But that is not my point. McCain the politician has failed the state of Arizona and the country.
During my entire business career, I have always made supporting veterans a top priority because our heroes deserve the very best for defending our freedom. Our Department of Veterans Affairs hospitals are outdated dumps. I will build the finest and most modern veterans hospitals in the world. The current medical assistance to our veterans is a disaster. A Trump administration will provide the finest universal access health care for our veterans. They will be able to get the best care anytime and anywhere.
Thanks to McCain and his Senate colleague Bernie Sanders, their legislation to cover up the VA scandal, in which 1,000+ veterans died waiting for medical care, made sure no one has been punished, charged, jailed, fined or held responsible. McCain has abandoned our veterans. I will fight for them.
The reality is that John McCain the politician has made America less safe, sent our brave soldiers into wrong-headed foreign adventures, covered up for President Obamawith the VA scandal and has spent most of his time in the Senate pushing amnesty. He would rather protect the Iraqi border than Arizona's. He even voted for the Iran Nuclear Review Act of 2015, which allows Obama, who McCain lost to in a record defeat, to push his dangerous Iran nuclear agreement through the Senate without a supermajority of votes.
A number of my competitors for the Republican nomination have no business running for president. I do not need to be lectured by any of them. Many are failed politicians or people who would be unable to succeed in the private sector. Some, however, I have great respect for.
My record of veteran support is well-documented. I served as co-chairman of the New York Vietnam Veterans Memorial Commission and was responsible, with a small group, for getting it built. Toward this end, I contributed over $1 million so our warriors can be honored in New York City with a proper memorial. I also helped finance and served as the grand marshal of the 1995 Nation's Day Parade, which honored over 25,000 veterans.  It was one of the biggest parades in the history of New York City, and I was very proud to have made it possible.
I will continue to fight to secure our border and take care of our veterans because these steps are vital to make America great again!
http://www.usatoday.com/story/opinion/2015/07/19/donald-trump-republican-party-presidential-candidate-editorials-debates/30389993/
Weekend Iowa Poll: No Trump Slump for McCain Remarks
Donald Trump ignited a political furor with his weekend comments about Sen. John McCain's war record, but the first polling released since then shows no change in his standing.
A Monmouth University poll of Iowans released Monday and conducted over the weekend showed Scott Walker continues to maintain a solid lead in the Iowa Republican caucus, though Trump has gained an edge over the rest of the field and now stands alone in second place.
Of likely caucus attendees, 22% told pollsters that they'd support the Wisconsin governor in next winter's matchup, but 13% said they would back Trump, who has suddenly catapulted to the front of some national polls. Trump only earned 4% of Republicans' support in a Des Moines Register/Bloomberg survey conducted in May, a month before Trump announced his campaign and made a string of controversial comments that came alongside his rise.
The Monmouth poll was fielded while Trump found himself embroiled in a new controversy over a remark that seemed to disparage the military record of 2008 nominee McCain while at an event in Iowa. The poll found no change in Trump's support before and after he made his comment this weekend in Iowa.
"Walker has been a favorite of Iowa voters ever since his well-received appearance at the Iowa Freedom summit in January. More recently, Trump has outmaneuvered the rest of the field to earn the second spot despite his controversial statements over the weekend," said Patrick Murray, who conducted the poll.
Trailing Walker and Trump is Ben Carson at 8%, Jeb Bush and Ted Cruz at 7%, and 2008 Iowa caucus winner Mike Huckabee at 6%.
Monmouth polled 452 Iowans from Thursday to Sunday for a margin of error of 4.6 percentage points.
http://whotv.com/2015/07/20/weekend-iowa-poll-no-trump-slump-for-mccain-remarks/
The Pronk Pops Show Podcasts Portfolio
Read Full Post
|
Make a Comment
(
None so far
)
Fast and Furious Roundtable with Katie Pavlich and Matthew Boyle
Rep. Paul Gosar, Sheriff Paul Babeu, and Katie Pavlich at Fast and Furious Town Hall Meeting
"Fast And Furious" Just Might Be President Obama's Watergate
The Laura Ingraham Show – Investigative reporter says WH official cussed at her over ATF scandal
What's more, CBS News investigative journalist Sharyl Attkisson — who's been covering the scandal from the beginning — says in an interview on the Laura Ingraham Show today that the White House and Justice Department have taken to screaming at her for reporting on the story. You can listen to the full interview below,
Bombshell: DOJ Considering Elimination of ATF
Katie Pavlich
News Editor, Townhall
Sep 30, 2011
Multiple sources, including sources from ATF, DOJ  and Congressional offices have said there is a white paper circulating within the Department of Justice, outlining the essential elimination of ATF. According to sources, the paper outlines the firing of at least 450 ATF agents in an effort to conduct damage control as Operation Fast and Furious gets uglier and as election day 2012 gets closer.  ATF agents wouldn't be reassigned to other positions, just simply let go. Current duties of ATF, including the enforcement of explosives and gun laws, would be transferred to other agencies, possibly the FBI and the DEA.
According to a congressional source, there have been rumblings about the  elimination of ATF for quite sometime, but the move would require major  political capital to actually happen.
"It's a serious white paper being circulated, how far they'd get with it I don't know," a confidential source said.
After a town hall meeting about Operation Fast and Furious in Tucson, Ariz. on Monday, ATF Whistleblower Vince Cefalu, who has been key in exposing details about Operation Fast and Furious, confirmed the elimination of ATF has been circulating as a serious idea for sometime now and that a white paper outlining the plan does exist.
Sounds great right? Eliminating ATF? But there is more to this story. Remember, low level ATF field agents, like ATF histleblower John Dodson, were uncomfortable conducting Operation Fast and Furious from  the beginning, but were told by high level officials within ATF that if they had a problem with the operation, they could find a job elsewhere.
"Allowing loads of weapons that we knew to be destined for criminals, this was the plan. It was so mandated," ATF Whistleblower John Dodson said in testimony on Capitol Hill on June 15, 2011.
In fact, not only were the ATF agents forced to carry out the operation,  they were told to go against what they had been taught in training.
"This operation, which in my opinion endangered the American public, was orchestrated in conjunction with Assistant U.S. Attorney Emory Hurley. [Emory Hurley is the same Assistant U.S. Attorney who previously  prevented agents from using some of the common and accepted law enforcement techniques that are employed elsewhere in the United States to investigate and prosecute gun crimes.] I have read documents that indicate that his boss, U.S. Attorney Dennis Burke, also agreed with the
direction of the case," Special Agent Peter Forcelli said in testimony on Capitol hill on June 15, 2011.
"I recall my first days at the ATF academy, where it was drilled into us  as new agents that under no circumstances would any firearms, in any investigation, leave the control of ATF. Instructors stressed that even if a weapon was lost "by accident," the agent was still subject to termination," former ATF Attaché to Mexico Darren D. Gil said in testimony on June 15, 2011.
ATF field agents weren't the problem with Operation Fast and Furious, high ranking officials within ATF and the Department of Justice were and  still are. DOJ would eliminate ATF only to take the heat off of the  Obama Administration. By eliminating the bureau, it makes it seem like DOJ is taking Operation Fast and Furious so seriously, they decided to "clear out the corruption, clean house," however, it would only be a distraction away from the people at the top of the investigation. In fact, evidence shows the DOJ has been stonewalling the Oversight Committee investigation into the operation to protect Obama political appointees.
"It was very frustrating to all of us, and it appears thoroughly to us that the Department is really trying to figure out a way to push the information away from their political appointees at the Department," former ATF Acting Director Kenneth Melson, who has since been moved to a  position within DOJ, said of his frustration with the Justice Department's response to the investigation in transcribed closed door testimony with the Oversight Committee in July 2011.
When I called the Department of Justice last week (five times) to request the white paper and receive a comment surrounding the idea of eliminating ATF, I received the following response: "Everyone is away from their desk right now."
Up to this point, the Department of Justice has denied all allegations  or involvement in Operation Fast and Furious, yet journalists and the House Oversight Committee have proved allegation after allegation to be true. For example, during a Congressional  hearing in July, former ATF Special Agent in Charge William Newell, who has since been promoted to a
position within the Justice Department, denied that his agency was trafficking guns to Mexico, despite overwhelming evidence and testimony from other ATF agents proving otherwise.
"At no time in our strategy was it to allow guns to be taken to Mexico,"  Newell said on July 26, 2011, adding that at no time did his agency allow guns to walk.
We've heard this was a low level, "rogue" operation, turns out high  level officials in the Justice Department, DEA, FBI, DHS, and even members of the White House national security team knew about Operation Fast and Furious.
Last week, ATF offered 400 agents buy outs to avoid budget cuts and is expecting 250-275 agents to take the offer through Voluntary Early Retirement. These buyouts come at a convenient time for the Justice Department, which can eliminate ATF, then say it's because of budget cuts, when really, it's to cover their tracks. …"
http://cleanupatf.org/forums/index.php?/topic/272-doj-white-paper-circulating-eliminating-atf/
Time for a special prosecutor to be named.
Background Articles and Videos
Analysis of Exchange Between Representative Issa and Attorney General Holder
Analysis of Exchange Between Representative Issa and Attorney General Holder
Related Posts On Pronk Palisades
Read Full Post
|
Make a Comment
(
None so far
)