U.S. consumer spending rose more than forecast in November and the Federal Reserve's preferred inflation gauge advanced to an eight-month high, signs of economic vitality that should keep the central bank on track to raise interest rates gradually in 2018.
Purchases rose 0.6 percent after a 0.2 percent advance that was less than previously estimated, Commerce Department figures showed Friday. The median forecast in a Bloomberg survey called for a 0.5 percent gain. Incomes rose 0.3 percent, slightly below projections, though the three-month gain was the fastest since early 2017.
While partly reflecting rising prices and spending related to energy, the results indicate strength in consumption, which accounts for about 70 percent of the economy and is likely to drive U.S. growth again this quarter. Inflation moving closer to the Fed's target may also reinforce expectations for interest- rate hikes next year under incoming Chairman Jerome Powell, and tax legislation awaiting President Donald Trump's signature could provide a further boost to the economy.
One caveat: The report showed Americans' spending is increasingly coming at the expense of storing up funds. The saving rate fell to 2.9 percent in November, the lowest since November 2007, just before the last recession began.
What Our Economists Say…
The results "support Bloomberg Economics' forecast for consumer-spending growth to accelerate in the fourth quarter to the fastest pace since the beginning of the year. Importantly, robust personal spending is supported by strong income gains in November, suggesting that households are well-positioned to spend in the near term. Income gains should intensify going into the next year as wage pressures increase."
— Yelena Shulyatyeva, Bloomberg Economics
For more on the data from BE, click here.
The Fed's preferred inflation gauge — tied to consumption — rose 0.2 percent in November from the previous month and 1.8 percent from a year earlier, the fastest since March. Excluding food and energy, so-called core prices rose 0.1 percent from October and 1.5 percent from November 2016, matching estimates.
Inflation has missed the central bank's 2 percent target for most of the past five years. While energy prices have helped drive the pickup in headline inflation, the rise in the core gauge should also hearten Fed officials, who expect inflation will slowly reach their goal as transitory downward pressures dissipate.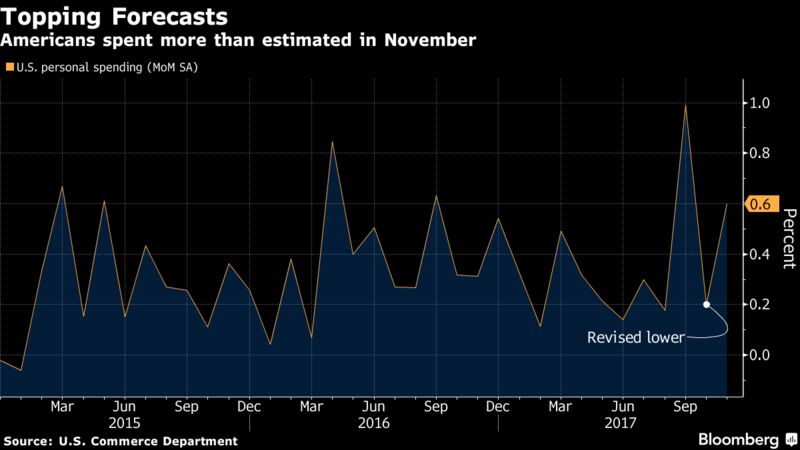 With steady hiring and rising stock and home prices boosting households' ability to increase purchases, some analysts project the holiday season will be the best since before the recession began. Recent government figures showed retail sales rose more than forecast in November amid broad-based demand.
The latest results follow Commerce Department figures released Thursday that showed third-quarter gross domestic product grew at a 3.2 percent annualized pace, revised down slightly though still the fastest since early 2015. That reflected a somewhat slower rate of household consumption.
Economists expect growth of 2.7 percent in the October-December period, based on the median estimate in a Bloomberg survey.
Other Details
Wages and salaries rose 0.4 percent in November from the prior month; disposable income, or earnings adjusted for taxes and inflation, was up 0.1 percent after a 0.3 percent advance in October
Consumer spending on durable goods, adjusted for inflation, rose 0.2 percent for a second month; nondurable goods jumped 0.7 percent after a 0.2 percent advance; recreational goods and vehicles contributed to gains
Household outlays on services, adjusted for inflation, rose 0.4 percent after a 0.1 percent decline in prior month; gain reflects spending on electricity and gas
— With assistance by Jordan Yadoo, Catarina Saraiva, and Sophie Caronello
https://www.bloomberg.com/news/articles/2017-12-22/u-s-consumer-spending-tops-forecasts-as-inflation-accelerates