Policy makers still project three total rate hikes for 2017

FOMC sticks with 'gradual' plan for removing accommodation
Federal Reserve Chair Janet Yellen sought to reassure investors that the central bank's latest interest-rate increase wasn't a paradigm shift to a trigger-happy policy driven by fears of faster inflation.
Speaking to reporters after the Fed's quarter percentage-point move on Wednesday, Yellen said the central bank was willing to tolerate inflation temporarily overshootingits 2 percent goal and that it intended to keep its policy accommodative for "some time."
"The simple message is the economy's doing well. We have confidence in the robustness of the economy and its resilience to shocks," she said.
As a result, the Fed is sticking with its policy of gradually raising interest rates, Yellen said. In their first forecasts in three months, Fed policy makers penciled in two more quarter-point rate increases this year and three in 2018, unchanged from their projections in December.
Today's decision "does not represent a reassessment of the economic outlook or of the appropriate course for monetary policy," the Fed chief said.
Speculation of a more aggressive Fed had mounted in recent days after a host of central bank officials, including Yellen herself, went out of their way to telegraph to financial markets that a rate hike was imminent. The expectations were further fueled by news of rising inflation.
Stocks Advance
Stocks rose and bond yields fell as investors viewed the statement from the Federal Open Market Committee and Yellen's remarks afterward as a sign that the Fed isn't in a hurry to remove monetary stimulus. The FOMC raised the target range for the federal funds rate to 0.75 percent to 1 percent, as expected, but Yellen's lack of urgency to snuff out inflation was a surprise.
R.J. Gallo, a fixed-income investment manager at Federated Investors in Pittsburgh, said the chorus of Fed speakers before this meeting led investors to expect a move up in the number of projected rate hikes this year, and even upgrades by Fed officials in the levels of inflation and growth they anticipated.
None of that materialized.
"You didn't get any of those things," Gallo said, which explains why Treasury yields quickly dropped after the Fed released the FOMC statement and a new set of economic projections. "The expectation that Fed was getting more hawkish had to come out of the market."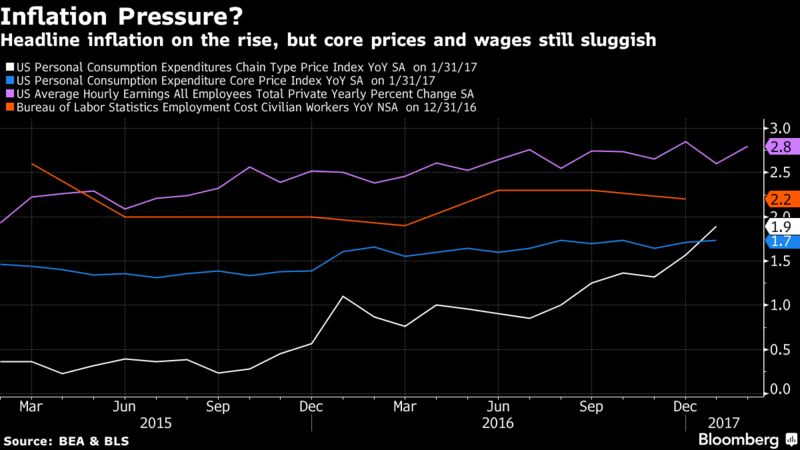 The U.S. economy has mostly met the central bank's goals of full employment and stable prices, and may get further support if President Donald Trump delivers promised fiscal stimulus. Investor and business confidence has soared since Trump won the presidency in November, buoyed by his vows to cut taxes, lift infrastructure spending and ease regulations.
Still, the data don't show an economy that's heating up rapidly — a point Yellen herself made after the third rate hike since the 2007-2009 recession ended. In fact, the economy may have "more room to run," she said.
Stronger business and consumer confidence hasn't yet translated into increased investment and spending, said Yellen.
"It's uncertain just how much sentiment actually impacts spending decisions, and I wouldn't say at this point that I have seen hard evidence of any change in spending decisions," said the Fed Chair. "Most of the business people that we've talked to also have a wait-and-see attitude."
Retail sales in February grew at the slowest pace since August, a government report showed earlier Wednesday. The Atlanta Fed's model for GDP predicts an expansion of 0.9 percent in the first quarter, less than a third the pace Trump is aiming for.
Fiscal Stimulus
Asked about the potential for a fiscal boost, Yellen made clear the Fed is still waiting for more concrete policy plans to emerge from the Trump administration before adapting monetary policy in reaction.
"There is great uncertainty about the timing, the size and the character of policy changes that may be put in place," Yellen said. "I don't think that's a decision or set of decisions that we need to make until we know more about what policy changes will go into effect."
Yellen disputed suggestions that the Fed was on a collision course with the Trump administration over its plans to foster faster economic growth through tax cuts and deregulation. "We would welcome stronger economic growth in the context of price stability," she said.
She said she had met Trump briefly and had gotten together a couple of times with Treasury Secretary Steven Mnuchin to discuss the economy and financial regulation.
Further underscoring their lack of urgency, Fed officials repeated a commitment to maintain their balance-sheet reinvestment policy until rate increases were well under way. Yellen said officials had discussed the process of reducing the balance sheet gradually, but had made no decisions and would continue to debate the topic.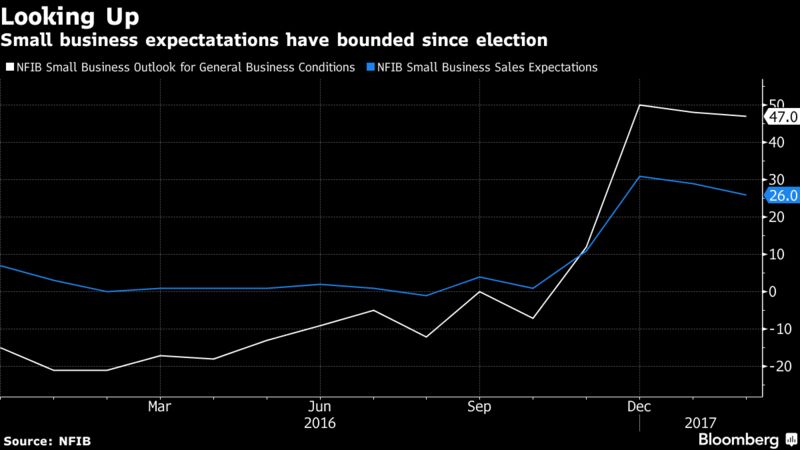 Policy makers forecast inflation will reach 1.9 percent in the fourth quarter this year, and 2 percent in both 2018 and 2019, according to quarterly median estimates released with the FOMC statement. The Fed's preferred measure of inflation rose 1.9 percent in the 12 months through January, just shy of its target.
Yellen pointed out, though, that core inflation continues to run somewhat further below 2 percent. That rate, which strips out food and energy costs, stood at 1.7 percent in January. The Fed's new forecast for the core rate at the end of this year edged up to 1.9 percent, from 1.8 percent in December.
"The committee will carefully monitor actual and expected inflation developments relative to its symmetric inflation goal," the Fed said. Discussing the word symmetric in the statement, Yellen said during her press conference that the Fed was not shooting to push inflation over 2 percent but recognized that it could temporarily go above it. Two percent is a target, she reiterated, not a ceiling.
https://www.bloomberg.com/news/articles/2017-03-15/fed-raises-benchmark-rate-as-inflation-approaches-2-target
Changes in the federal funds rate will always affect the U.S. dollar. When the Federal Reserve increases the federal funds rate, it normally reduces inflationary pressure and works to appreciate the dollar.
Since June 2006, however, the Fed has maintained a federal funds rate of close to 0%. In the wake of the 2008 financial crisis, the federal funds rate fluctuated between 0-0.25%, and is now 0.75%.
The Fed used this monetary policy to help achieve maximum employment and stable prices. Now that the 2008 financial crisis has largely subsided, the Fed will look to increase interest rates to continue to achieve employment and to stabilize prices.
Inflation of the U.S. Dollar
The best way to achieve full employment and stable prices is to set the inflation rate of the dollar at 2%. In 2011, the Fed officially adopted a 2% annual increase in the price index for personal consumption expenditures as its target. When the economy is weak, inflation naturally falls; when the economy is strong, rising wages increase inflation. Keeping inflation at a growth rate of 2% helps the economy grow at a healthy rate.
Adjustments to the federal funds rate can also affect inflation in the United States. The Fed controls the economy by increasing interest rates when the economy is growing too fast. This encourages people to save more and spend less, reducing inflationary pressure. Conversely, when the economy is in a recession or growing too slowly, the Fed reduces interest rates to stimulate spending, which increases inflation.
During the 2008 financial crisis, the low federal funds rate should have increased inflation. Over this period, the federal funds rate was set near 0%, which encouraged spending and would normally increase inflation.
However, inflation is still well below the 2% target, which is contrary to the normal effects of low interest rates. The Fed cites one-off factors, such as falling oil prices and the strengthening dollar, as the reasons why inflation has remained low in a low interest environment.
The Fed believes that these factors will eventually fade and that inflation will increase above the target 2%. To prevent this eventual increase in inflation, hiking the federal funds rate reduces inflationary pressure and cause inflation of the dollar to remain around 2%.
Appreciation of the U.S. Dollar
Increases in the federal funds rate also result in a strengthening of the U.S. dollar. Other ways that the dollar can appreciate include increases in average wages and increases in overall consumption. However, although jobs are being created, wage rates are stagnant.
Without an increase in wage rates to go along with a strengthening job market, consumption won't increase enough to sustain economic growth. Additionally, consumption remains subdued due to the fact that the labor force participation rate was close to its 35-year low in 2015. The Fed has kept interest rates low because a lower federal funds rate supports business expansions, which leads to more jobs and higher consumption. This has all worked to keep appreciation of the U.S. dollar low.
However, the U.S. is ahead of the other developed markets in terms of its economic recovery. Although the Fed raises rates cautiously, the U.S. could see higher interest rates before the other developed economies.
Overall, under normal economic conditions, increases in the federal funds rate reduce inflation and increase the appreciation of the U.S. dollar.
http://www.investopedia.com/articles/investing/101215/how-fed-fund-rate-hikes-affect-us-dollar.asp